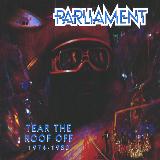 Tear The Roof Off: Parliament, 1974-1980 (1993)
Go back up to the Parliament album list.

Track Listing:

 CD1:
P. Funk  7:40  lyrics
Up For the Down Stroke  lyrics
Bop Gun  lyrics
Dr. Funkenstein's Supergroovalisticprosifunkstication Medley:
 a) Let's Take It to The Stage
 b) Take Your Dead Ass Home (Say Som'n Nasty) 
Mothership Connection  6:13  lyrics
Dr. Funkenstein  5:46  lyrics
Testify  3:54  lyrics
Mr. Wiggles  lyrics
Aqua Boogie (12")  9:23  lyrics
All Your Goodies Are Gone  lyrics
Do That Stuff  4:48  lyrics
Party People  4:40  lyrics

 CD2:
Prelude  lyrics
Give Up The Funk  lyrics
Chocolate City  lyrics
Funkentelechy  lyrics
Theme From the Black Hole  lyrics
The Big Bang Theory  lyrics
Children of Production (live)  lyrics
Flash Light (12")  10:42  lyrics
Ride On  lyrics
Fantasy Is Reality  6:38
Rumpofsteelskin  5:43  lyrics
Agony of Defeet  6:23  lyrics
Funkin' For Fun  lyrics

Reviews:  RC: ****1/2


Comments:

RC: A superb sampler for those uninitiated in the Funk. Also contains enough curious items (12" versions, single versions, different versions) to interest the diehard collector. The version of "Party People" is much better than the tedious album version. Credits can be found on prior albums, and times are only noted if they differ from the original album version. Includes a version of "Testify" with a longer guitar intro that's kinda nice. The 12" versions are of "Flash Light" and "Aqua Boogie" and both are somewhat interesting though nothing revelatory is revealed about either song. The packaging contains a number of great photos and some nice articles about Parliament, but doesn't really tell us anything essential. If you're only a casual collector, this has most of the important songs (but the absence of "Sir Nose D'Voidoffunk" is greatly felt), but the sequencing of the songs is apparently random, so the coherency of the original albums is lost.